Soldiers
Well, I'm finally back up and running with my computer equipment so I will be able to blog more often and post pictures again (and there was much clapping and rejoicing).
I've posted a lot of pictures of the local Iraqi people, and I will continue to do so in the future. However, I wanted to pay tribute to some real heroes...the American soldier. The pictures that follow are all of guys in my unit. You will probably never read about them in the paper, but they put their necks on the line every day. They obviously don't do it for the money, glory, or fame since they will recieve little or none of those during their deployment here. They do it because that's just what soldiers do, and at the end of the day all that matters is the guy on your left and your right and making sure everyone gets back home safe.
This is one of some guys getting their gun-trucks ready to go right before a mission.
This is myself and SGT Hatt right before we left that day. SGT Hatt is an interesting individual. He is a gunner on a gun crew, which means he sits in the hatch in the HMMWV behind a machine gun as we fly down the highway. He also was one year away from completing his degree in English Literature when we got mobilized. Here's a steely eyed killer who can quote from classic works of writing.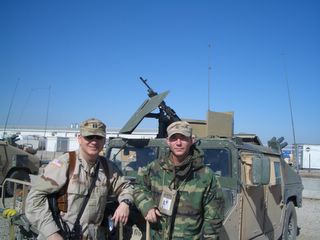 This is SGT Hatt again. The picture was taken from inside the vehicle as we were going down the road. It was a little chilly that morning.
This is just another Joe in action as his crew gets ready to move out.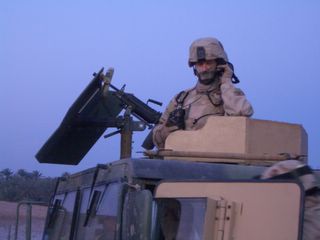 This is Lieutenant Holland who was riding in the back of my vehicle. It was a three hour ride. I guess he was tired.
This is SPC Edge. We affectionately refer to him as "The Edge". He was also about to start his last year of college at Texas A&M when we were mobilzed. As you can see, he doesn't like to have his picture taken.
All of these photos reflect every day occurences here. Nothing too exciting, but as my Father-n-Law aptly puts it, "...no excitement in a combat zone is a good thing."
I agree.
Let's save all of the excitement for when we all come home.
j